Artist Yngve Holen
VIDEOS FOR THE EXHIBITIONS OF YNGVE HOLEN
​
Yngve Holen, Norwegian, was born in 1982, and lives and works in Berlin, Germany. He completed Meisterschüler Bildhauerei at HfBK Städelschule, Frankfurt am Main, Germany in 2010, after studying architecture at University of Applied Arts Vienna - Die Angewandte, Vienna, Austria.
Holen's work has been included in the recent exhibitions Speculations on Anonymous Materials, curated by Susanne Pfeffer, Fridericianum, Kassel, Germany (2013); and Based in Berlin, KW Institute for Contemporary Art, Berlin, Germany (2011). Solo exhibitions include sensitive to detergent, Autocenter, Berlin, Germany (2011); and Extended Operations, Rogaland Kunstsenter, Stavanger, Norway (2013).
ECONOMY CLASS LEGS​
​
@ 032c Workshop, Berlin, Germany
2014 | color I laser engraved monitors I HD video I media player
​
I was on the BA Dreamliner 787 Newark–London flight 186. Had window seat 36K, in the standard World Traveller Economy class. It looked more like an afterthought to the 3-3-3 configuration—a hangnail from the hangar—than state-of-the-art design. Really plopped there, like a jump seat. Right between the middle and back emergency exits, I felt like I was already about to be in the middle of an emergency. Brace for take off. Knees to chest? Assume the butterfly position? Twisted spine. There was definitely more headroom than legroom—what is "improved seat pitch" anyway? Unclear. Very uncomfortable. Flight time: 7 hours, 10 minutes... (Yngve Holen)
​
​
​
​
​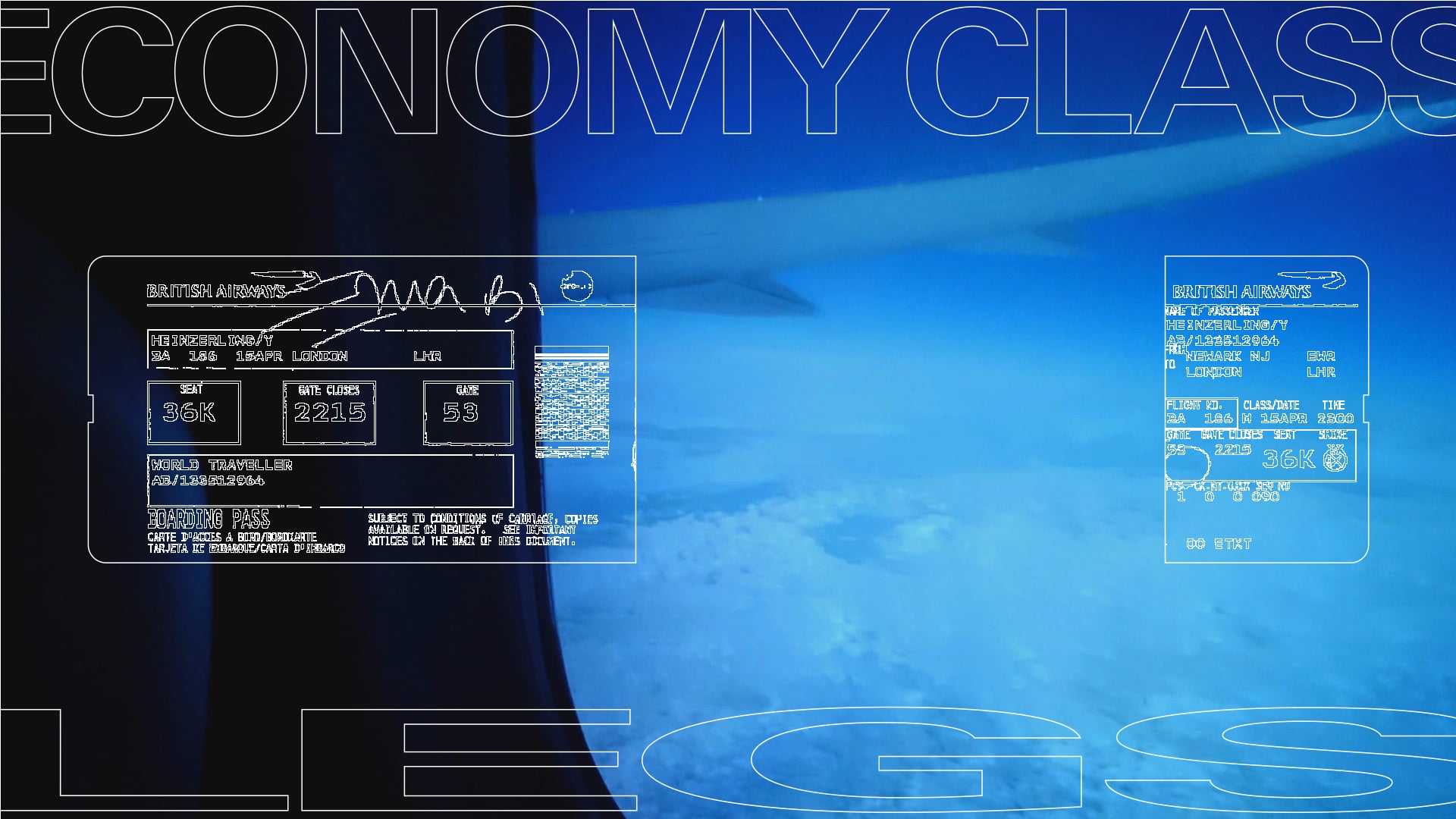 ORIGINAL SPARE PART
​
@ Stuart Shave/Modern Art, London, UK
2014 | color I laser engraved monitors I HD video I media player
​
In his installations, Yngve Holen explores the concept of the posthuman, especially as it relates to the constant advances of technology on the human body. He organizes displays of objects of corporate—or corporate-seeming—provenance, such as high-end CT scanners or model airplanes once prized by the jet set. These slick objects are often presented alongside a Holen-designed publication titled ETOPS (an acronym for Extended-range Twin-engine Operational Performance Standards), which features discourses around the body—how we use and nourish it. The Berlin-based artist is not concerned with the technological impact of CT scanners or aviation equipment, but rather with how such technologies change our behavior and understanding of the human body.
For this exhibition at Modern Art, Holen presents a series of sculptures comprised of scale model airliners arranged beneath folds of plastic printed with thermographic images of an empty airline cabin. Sides of meat have been scanned and 3D printed. Printed thermographic images are shown on the walls. A video made from POV footage recorded by the artist as a passenger onboard various flights is channelled on engraved HD screens.